Careers in Maritime & Hovercraft - Griffon Hoverwork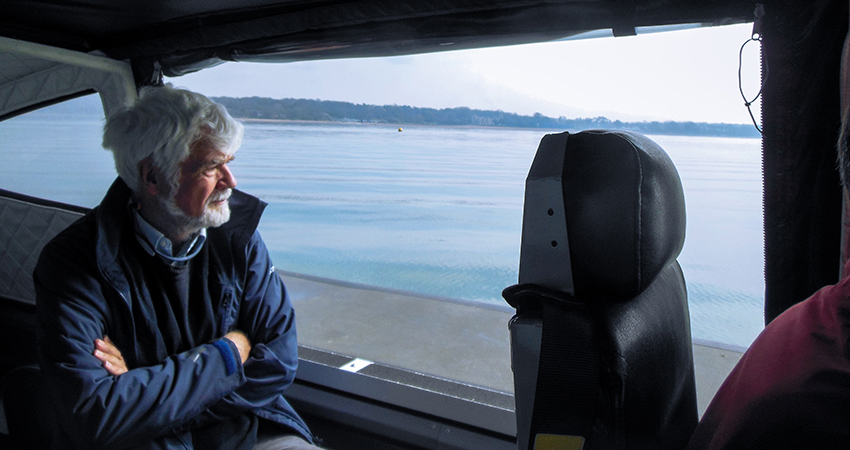 We are proud to offer positions at every level within the maritime industry to those who wish to be a part of a team providing sustainable excellence in hovercraft and marine engineering.
Working at Griffon
We aspire to make Griffon Hoverwork an enjoyable and fulfilling place to work.
We in the Griffon Team are proud of our position as leaders in our field. As a growing business we are continually seeking to find like-minded people who have the ability and desire to add value, develop and grow with the business.
At Griffon Hoverwork we are committed to developing our capabilities to meet the demands of the competitive world in which we trade.  We have both apprenticeship and graduate training opportunities on offer to the right candidates.  Unlike larger engineering employers, our graduates and apprentices will take responsibility for their work far earlier in their careers.
We employ a wide range of technical tradesmen, for whom we offer the opportunity to work in a fulfilling and growing environment. Our welders are certified to Lloyds and become expert in bonding thin walled aluminium structures.  Our fitters, mechanics, electricians, painters and stores technicians are continually developing the manner in which we build our craft, refining and improving the techniques on an ongoing basis.
Our engineers come from chartered engineering and naval architect backgrounds and have the opportunity to work with and learn from world leaders in the field. Our designers use the latest CAD technology to develop 3D computer models and take responsibility for the development of major systems.   
Those who work in our sales and commercial functions need to learn fast about the challenges involved in a business where the bulk of our customers are from overseas.  Boredom is not an option.
As the company grows we also need to strengthen our business across all functions and levels.
If you are interested in pursuing a career as part of the Griffon Hoverwork team, we would be delighted to hear from you.
For further information on our current vacancies, please contact our HR department on +44 (0) 2380 686666, or email your CV to recruitment@griffonhoverwork.com and we will contact you when a suitable vacancy is available.
Apprenticeships at Griffon
At Griffon Hoverwork we recognise the importance of developing new talent and therefore offer an aprenticeship scheme to those who are keen to start a long term career in engineering. Prior experience is less important than having the right aptitude and attitude, as we know we can take good people and turn them into the professional artisans that we need .
Intermediate (NVQ Level 2) and Advanced (NVQ Level 3) Apprenticeships are offered in the following areas:
Marine Electrical
Marine Engineering
Marine Outfitters
Aluminium Fabricators/Welders
Marine Composites Technicians
Stores
CAD Draughtsman
Sales and marketing/Customer Service

Working in partnership with Southampton City College and Griffon Hoverwork, successful applicants will become part of an entrepreneurial team, whilst gaining practical experience from both college based and on the job development.
Entry requirements will include a minimum of 3 grade C's at GCE level including Maths and English for most roles but a minimum of 5 grade C's at GCE level including Maths and English  for the CAD and sales roles.
Most apprentices will work under the supervision of others,as well as attending City College one or two days a week.
City College Marine centre is located 100 yards away from the Griffon Hoverwork site, which allows close contact and support between the college and the company.
If you have any further queries about the scheme please email:  Recruitment@griffonhoverwork.com