High Payload Delivery
Low Infrastructure Requirement
Travel Through Adverse Environments
Cheaper Than Helicopters
With operations conducted in every corner of the globe, from the frozen extremities of Alaska to North Western Australia's Bonaparte Basin, the energy industry exists in every habitat known to man. These environments often have little to no infrastructure, isolating personnel and equipment conducting crucial tasks. Millions of dollars in business relies every day on effective, reliable logistics. 
Hovercraft are designed and adapted for a specific role within extreme, remote environments. Therefore, they out-perform the conventional vehicles improvised from the status quo, giving a more resilient and cost-effective service.
By creating life and "hover height", a hovercraft's hull is separated from the environment, providing the ability to overcome the obstacles stopping other vehicles.
All of the Griffon Hoverwork range can be configured in a full or partially well decked format. This allows the craft to carry a range of equipment, from drilling rigs, survey equipment, cranes, and personnel measured in tonnes not kilos.
Frozen Passages - Offshore Island Supply
The "Arctic Hawk" 2000TD operates in the frozen conditions of Northern Alaska. 6 miles off shore in Prudhoe Bay oil field where roughly half a million barrels of oil a day is extracted, the man-made North Star Island operates in isolation.
The extreme environmental conditions mean the sea is often either partially or fully frozen throughout the year preventing the use of boats and heavy fog grounding helicopters. The hovercraft operates here to ensure supplies, personnel and equipment can be connected to North Star efficiently, in total certainty. 

Shallow Seas - High Payload Supply
A BHT Hovercraft, the "Caspian Falcon", carrying a payload of 22 tones will be operating in the Northern Caspian Sea for Caspian Offshore Construction (COC) where water levels are lowering each year. The craft was acquired by COC in 2018 to deliver personnel and goods between the islands of the Kashagan Oil Field. Currently undergoing sea ice trials, with a top speed of over 45 knots the Falcon will make up to a 180-mile journey connecting artificial islands to the mainland for delivering the frequent high payload of people and consumables required.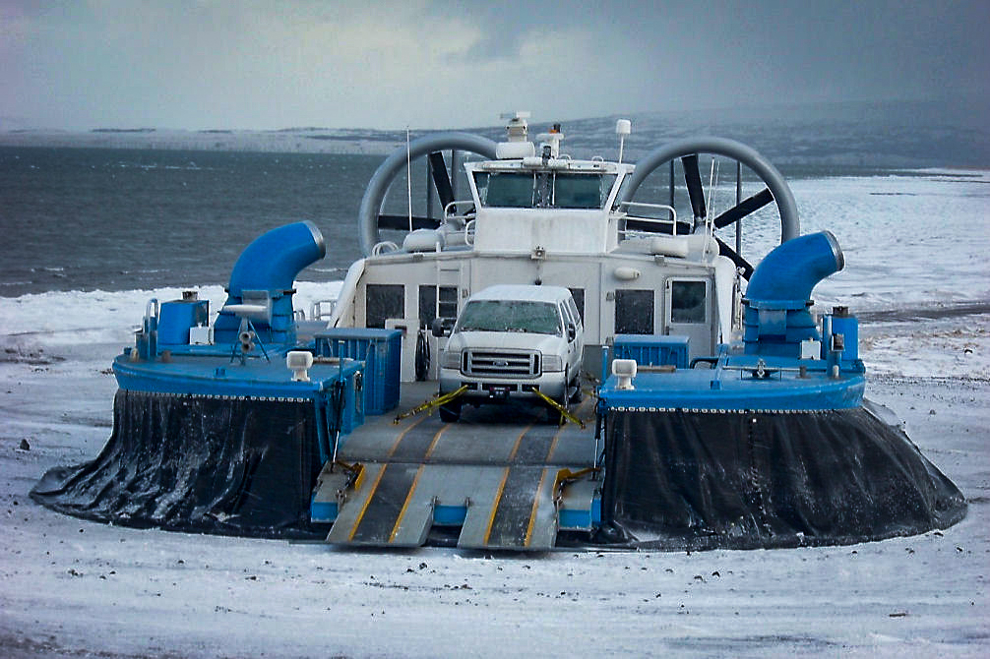 Hovercraft Used In Logistics Operations